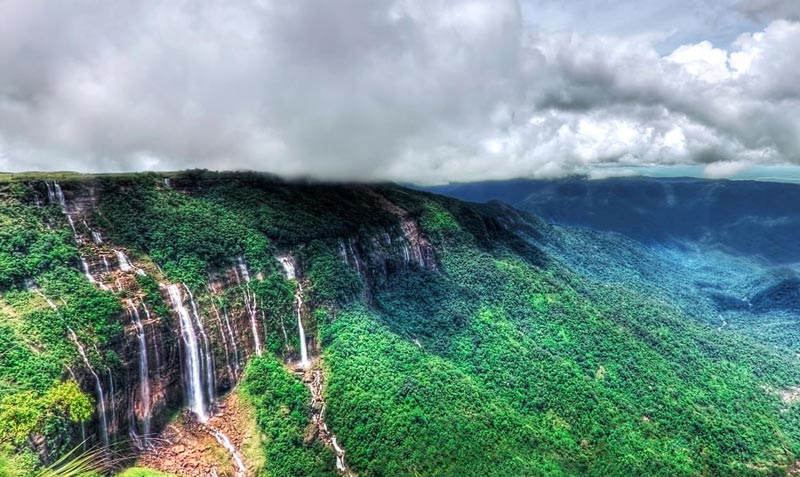 Shillong, the state capital of Meghalaya, is a lovely city surrounded by pine trees, which adds to the attractiveness of the state. The name of the state is derived from Lei Shyllong, it refers to the deity worshiped in Shillong Peak by the people there. This 1496-meter-high hill station is recognized for its weather, attractive scenery, and traditions. This region is also popularly known as "East Scotland."This state is home to tribes such as the Khyrim, Mylliem, Maharam, Mallaisohmat, Bhowal, and Langrim.
Shillong is a state that is home to mesmerizing waterfalls. Shillong is known for its fascinating high mountain peaks, completely clear lakes, stunningly gorgeous golf courses, cafés, and museums. Shillong, exclusively, has received attention for its cheerful people and culture. Shillong is a state that has a more westernized culture and a more youthful vibe. Shillong is also popularly known as India's music capital, as it has produced many well-known musicians. There are so many music events and concerts that take place throughout the year, making it a very active site.
So if you are a person who is fond of mountains and lakes and amazing cafes and want a vacation you can search and Book Shillong Tour Packages for yourself or surprise your loved ones by taking them to the state beautiful, Shillong.
Places that you must visit in Shillong
When you visit Shillong, you may visit many great and lovely sites. Shillong's well-known tourist attractions include the following:
● The Elephant Hills
● The Shillong peak
● The Umiam Lake
● The police Bazar
● The Laitlum Canyons
● The Don Bosco Museum
● The Wards Lake
● The Sweet Falls
● The Mawlynnong Village
● The Spread Eagle Falls
● The David Scott Trail
● The Kyllang Rock
Above mentioned are the iconic hills, lakes, villages, and bazaar that a person must visit if they are considering a 4-5 days vacation in Shillong.
One can book a resort or hotel for themselves in Shillong. Search for Book Shillong Budget Tour Packages and there will be so much information to guide you to book your stay and plan your vacation in Shillong under your prescribed budget, you have to choose for yourself which suits you the best according to your needs. It's always a good idea to have a budget in mind while traveling so that one does not overspend during the vacation. So that they don't have to worry about finance even after coming back from the long 4-5 days vacation and things run smoothly for them.
One can Book budget Shillong Tour Packages in May, June, July, August, and September. They are considered to be the best months for tourists to explore this state. As if you visit between June and August it is difficult to explore the place due to heavy rains. Also, you can visit this place during the off-season because it looks the most beautiful due to the rain. There is so much greenery, and it looks nothing less than a paradise.