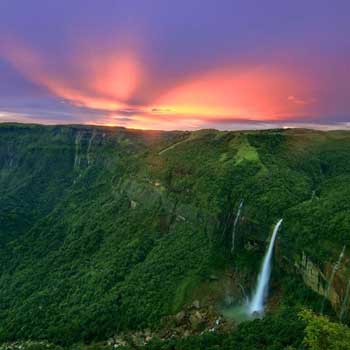 After breakfast, set off for Cherrapunji, well known for receiving one of the highest rainfall in the world. Cherrapunjee is locally known as Sohra and is situated at a distance of 56 kms from Shillong. On the way we will be visiting the Shillong peak, located in the upper Shillong from where one can see the beauty of Shillong city under the clouds giving a perfect picturesque view of the city. After a while we head to the Elephanta falls, the water of this three steps falls comes down in flows from different levels over the fern-covered rocks and falls into the canyon down below. Then we will the Mawkdok Valley which is a very prominent sightseeing for tourists. Then on the way we visit the Nohsngithiang falls (Seven sisters falls) which is known to be the symbol of the Unity of the Seven States of North East India. Later than we visit the Mawsmai cave, a major crowd puller that leaves tourists spellbound. After trekking in the majestic cave we move for Eco Park, which hosts several hybrid and indigenous orchids. It also offers a breathtaking view of distant Sylhet Plains of neighbouring Bangladesh. After exploring the place come back to the hotel.
Overnight stay at Shillong.
Attractions:
- Shillong Peak
- Elephanta Falls
- Mawkdok Valley,
- Nohsngithiang (Seven sisters falls),
- Mawsmai Cave,
- Eco Park.
Meals : Breakfast