* Mentioned prices may vary depending upon date of travel, hotel availability, surge pricing and seasonal rush.
Guwahati, Kaziranga and Bhalukpong Tour Overview
Tawang is Not Just One of the 16 Administrative Districts of Arunachal Pradesh, But also One of the Most Beautiful Districts of Arunachal Pradesh. from Natural Marvels to Man-made Wonders, the Place Has Them All. Therefore, We have Designed a Tour Package that Tenders You the Chance of Witnessing Every Gem of Tawang. Be It the Orchid Garden, Colorful Tribes, Warm Valleys or Ancient Monasteries, We Take You to Every Place that Perfectly Defines An Excursion to Tawang.


Tour Highlights

kamakhya Temple bomdila Monastery sela Pass

bhalukpong Tawang Monastery war Memorial

Uphoria Travels Tawang with Kaziranga Wildlife Tour package contains an itinerary for an eight-night and nine-day trip to Arunachal Pradesh, where you may take in the region's unmatched beauty, aesthetics, historical, and cultural structures. Such a location where divinity greets travellers in the shape of lovely Nature will be encountered on your KazirangaTawang Tour in the North East of India.

Book Tawang with Kaziranga Wildlife Tour to enjoy the state of Arunachal Pradesh which is surrounded by the majestic Himalayas, rich green forests, and river valleys. This lovely North-Eastern beauty, known as "The Land of the Dawn-Lit Mountains," is recognised for the diversity it fosters. Among its seven northeastern sisters, it is the biggest and is home to some of the most breathtaking and magnificent scenery in the nation.

Arunachal's climate changes from temperate to alpine, and the city is fortunate to receive a lot of rain throughout the monsoon season. This makes Tawang with Kaziranga Wildlife Tour Package the ideal one. Arunachal is home to a wide variety of peacefully coexisting animal and plant species.

With its various rivers and lakes, our Arunachal Pradesh trip will take you through the city's stunning physical landscape. They will also make it possible for you to visit the city's other tourist attractions.

Take a jungle safari to get up and personal with the animals in their natural setting. With our 8 Nights / 9 Days Tawang with Kaziranga Wildlife Tour, you get a wonderful chance to discover the stunning Kaziranga National Park, which is a UNESCO World Heritage Site.

It will surely be an experience like "never before." We wish to make your vacations pleasurable and unforgettable, whether you want to go on an elephant safari or a car safari in the forest.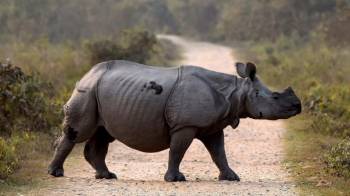 Early morning explore Western Zone of Kaziranga National Park on back of elephant. Apart from world's endangered One-horned Rhinoceros, the Park sustains half the world's population of genetically pure Wild Water Buffaloes, over 1000 Wild elephants and perhaps the densest population of Royal Bengal Tigers anywhere.
(Jeep safari 1.30 Pm to 3.30 Pm) Afternoon explore central Zone, Kaziranga is also a bird watcher's paradise and home to some 500 species of birds. The Crested Serpent Eagle, Palla's Fishing Eagle, Greyheaded Fishing Eagle, Swamp Partridge, Bar-headed goose, whistling Teal, Bengal Florican, Storks, Herons and Pelicans are some of the species found here.
Overnight stay at Kaziranga.
Attractions:
- Kaziranga Jeep Safari,
- Elephant Safari
Meals : Breakfast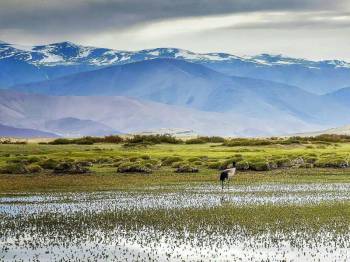 After breakfast drive to Dirang that has a picturesque Monpa Valley (8600ft). En-route we will visit Bomdila Monastery, which was constructed by TsonaGontse Rinpoche, the 12th reincarnate. The monastery is one of the most famous attractions of Bomdila and was inaugurated in 1965. Bomdila monastery is abode to Buddhist Monks and Lamas. It is believed to be the monastery here in Bomdila is exact replica of TsonaGontse Monastery.
Upon arrival at Dirang, check into the hotel. In the evening you are free to visit the hot water spring, regional sheep farm, Sangti and Yak Research Center. Overnight stay at the hotel.
Attractions:
- Monpa valley,
- Bomdila Monastery,
- Hot Spring Water
Meals : Breakfast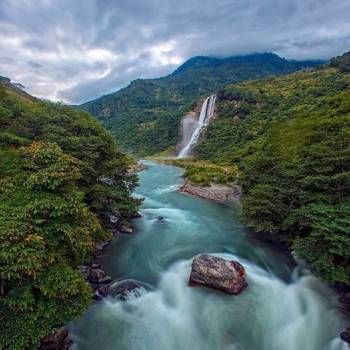 After an early breakfast we will leave for one of the most popular tourist destinations, Tawang. We will be driving through the beautiful valley of Dirang to reach Sela Pass (13703 ft). En-route bubbling river and colorful tribes will greet you. On reaching spend some time around the paradise lake, which is the land of the Monpa tribes and a major center of the Mahayana Buddhism. Later, we will continue our drive to Tawang. Upon arrival, check into a hotel. In the evening you can visit the Craft Center and traditional Monpa Village. Overnight stay in the hotel.
Attractions:
- Sela Pass,
- Craft Center
Meals : Breakfast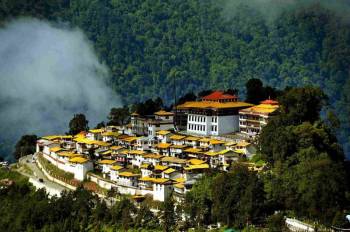 Today we will have a full day excursion around Tawang. We will visit the famous Tawang Monastery, which was founded by Mera Lama LodreGyaltso. He was a contemporary of the fifth Dalai Lama and founded the Monestery during 17th century A.D. At present it accommodates over 500 monks and houses priceless Buddhist texts and scriptures.
Later, we will go on a short trek to BramdungchungAniGomap, which is the abode of nuns and the oldest AniGompa in Tawang. The Gompa is situated in the lap of a far off mountain laced with natural scenery and comes under the administration of Tawang Monastery.
In the evening we will visit Urgelling Monastery, situated 5 km to the south of town. It was here in 1683 TsangyangGyatso, the sixth Dalai Lama was born. We will also visit the Monpa Village. Overnight stay at the hotel in Tawang.
Attractions:
- Tawang Monastery,
- BramdungchungAniGomap,
- Urgelling Monastery
Meals : Breakfast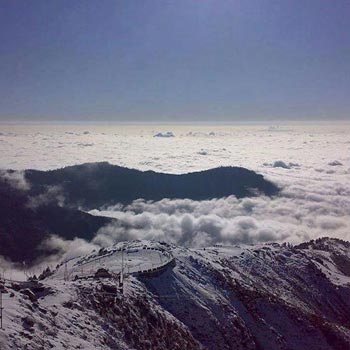 After breakfast visit Sungester Lake (Alt 14500Ft) which was formed in 1950, following a major earthquake. It is better known as Madhuri Lake after the actress of the same name who came here for a shoot of the film "Koyla". On the way visit the Ptso Lake also known as Pankang Teng Tso Lake.
Then visit the Bumla Pass (Alt 15000Ft / 4400M), this is one of the most off-beat passes in the world. It is also referred to as the pass from where Dalai Lama entered India escaping from Tibet.
Overnight stay at Tawang.
Attractions:
- Bumla Pass,
- Madhuri Lake,
- Ptso Lake
Meals : Breakfast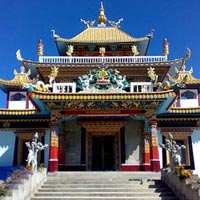 Today after breakfast we will drive back to Bomdila. On the way we will stop to visit 1962 Indo-China War Memorial, which is dedicated to Rifleman Jaswant Singh Rawat, of the 4th Battalion of Garhwal Rifles Infantry Regiment. He showed his heroism by fighting and holding the attack of China back for 72 hours all alone. Singh remained at his post at an altitude of about 10,000 feet before succumbing to an enemy bullet during that bloody winter war. The memorial is located 25 km before Tawang and is surrounded by scenic terrain just below the Sela Pass.
After visiting the war memorial, we will continue our drive to Bomdila. En-route enjoy the beauty of snow-clad peaks namely Kangto (7090 mt), NyegiKangsang (7050 mt), Gorichen (6488 mt).
Upon arrival at Bomdila, check into the hotel. Enjoy evening at leisure, followed by overnight stay at the hotel.
Attractions:
- Indo-China War Memorial
Meals : Breakfast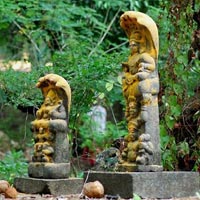 Today after breakfast we will drive to Tezpur, en-route visit the Orchid Center at Tipi. Tipi houses over 7500 orchids. On display are some of the finest species like the Dainty Lady's Slipper or the more formal sounding Dendrobium.
Continue drive to Tezpur. Upon arrival, check into the hotel. Fresh-n-up and enjoy a sightseeing tour of Tezpur.
The place is also known as 'The City of Blood'. It is steeped in mythologies and legends. Situated on the north bank of Brahmaputra, this town of magnificent scenic beauty and exquisite archaeological ruins is the head quarter of Sonitpur District.
Overnight stay at the hotel.
Attractions: Orchid Center
Meals : Breakfast